Church Design and Construction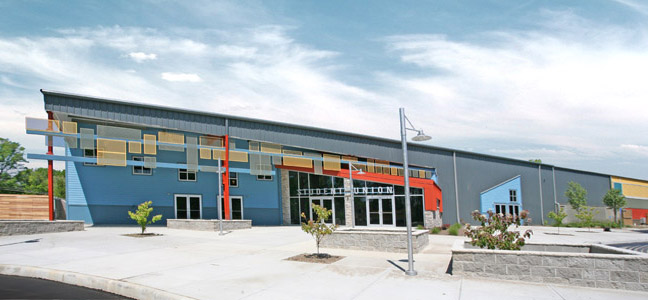 Church Designers, Builders and Contractors
HiFive Development Services is a leader in providing design-build construction services in the Ohio, Kentucky and Indiana region. As a design-builder, we offer a one-stop shop for all of your church construction project needs — church design, church architects, financing assistance, church capital campaign consulting, land consulting, and much more.
Design-build construction — when a single company both designs and builds a facility — offers advantages that can't be found in other project delivery methods, especially for faith-based organizations. HiFive Church Group was created to ensure our clients capitalize on those advantages with every project.
Design-Build Advantages:
• Single point responsibility
With HiFive, you have a single point of project responsibility. There is no finger-pointing. Your project team is focused on delivering quality and meeting your goals rather than protecting their individual interests.
• Minimized claims and changes
HiFive is responsible for both supplying the designs and specifications for the project, and bringing them to life during construction. You won't face the delays and additional construction costs arising out of errors, ommissions and ambiguities in plans found in traditional construction methods.
• Improved coordination and cooperation
HiFive is a single, coordinated team focused on serving you and delivering a quality, exceptional facility. Team members make decisions cooperatively. Communication is simplified and chances of miscommunication are reduced when there is a clear source of project responsibility and a focused project team.
• Shortened project delivery time
Because there is a single source of project responsibility, design and construction activities can overlap, resulting in reduced time to project completion and cost savings.
• Limited risk
With design, construction, and cost knowledge working together cooperatively to develop a quality facility, you have better control of design and cost. Communication errors, conflicts of interests, and fragmented construction responsibility are risks the HiFive team will control.
Explore more of HiFive Church Group at Church-Designer.com >
Below, you'll see a video with testimonials of the work we've done with other churches, as well as a portfolio with a selection of our church projects.